James Bowman: tributes from Robert Quinney and Edward Higginbottom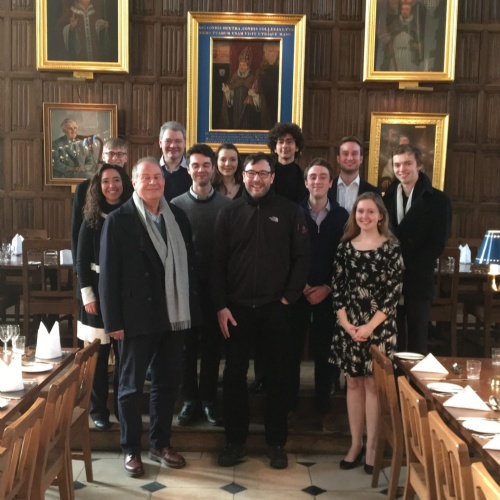 Robert Quinney writes
The loss of James Bowman is felt all over the musical world – rarely can an artist have made such an impact over such a long career – but with a particular depth at New College. James was one of us; not only as a former Academical and Lay Clerk, nor as one of our distinguished Honorary Fellows, but as an unstinting and generous supporter of the Choir – and, to many of us, a friend.
That James should have died just a few weeks after Sir David Lumsden adds a poignancy to this New College-specific loss; it was David who, as Organist, recruited the young James as his first Academical Clerk in 1959, giving a home to a voice and musical personality that would inevitably outgrow the choir stalls. But James never lost touch with, nor his love for, the choral tradition. He worked as a soloist with choirs, of course, but also listened for pleasure – both live and to recordings – and was never less than au courant with comings and goings at choral foundations. We will miss his appearances in college, which always involved a foray into the clerks' vestry after the service, and kind words of encouragement to all and sundry. He was a man of innate generosity, especially to other musicians. We at New College are and always will be proud of this most distinguished alumnus; but we feel, more keenly, bereft of a true friend.
Edward Higginbottom writes
When James stepped back from his concert and opera work, he took up with St James's Palace and became a Gentleman of the Chapel Royal. He loved getting back into the stalls. It was a perfectly rounded binary moment. He wanted to repay the debt of his early opportunities as an alto layclerk. But this was far from transactional: he really loved being there, he loved the repertory, he loved the environment, and he loved the history, remembering the likes of Tallis and Byrd and Purcell who had preceded him. The Anglican Tradition was in his blood.
Nothing better illustrated this than an occasion when he joined New College for a Purcell programme. In that lovely duet for treble and alto from the Jubilate, 'Be ye sure', there was every possibility of an uneven encounter, his large presence, physical and musical, towering over the boy. He didn't let that happen. He scaled back and leant into the upper line to give the chorister the warm and empathetic support he needed. It was a masterclass in sensitivity, understanding and manners. Wonderful and inimitable.