The English Tradition Pt.2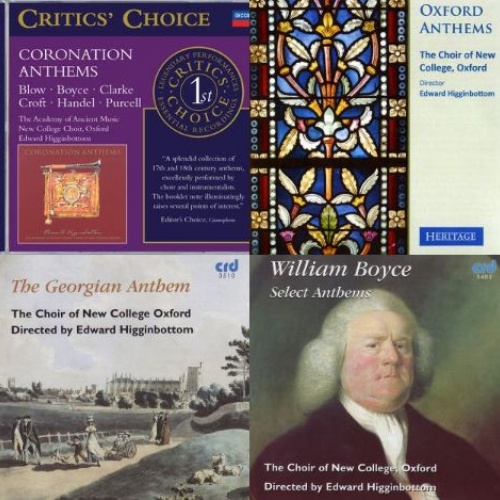 You can find the playlist here.
The second part of our express tour of the choral tradition of these islands is by no means specifically English: it encompasses music by an Irishman and a Scot, and, more significantly, demonstrates the influence of European music throughout this country's history. And, to establish that point right from the start, it begins with an anthem by a German, which has been sung at the coronation of every British monarch since its first performance, for George II, in 1727. Handel was the preponderant influence upon the generation of Hanoverian musicians that followed him, but in William Boyce's Turn thee unto me we can just as easily hear echoes of Purcell, and even pre-Commonwealth music: classics that have never left the repertory of the choral foundations, thanks in part to Boyce's own antiquarian three-volume collection Cathedral Music (1760-62), begun by his teacher Maurice Greene.
Handel's direct contemporary and countryman, J. S. Bach, was celebrated in this country even before the visits of Mendelssohn, thanks mainly to the work of Samuel Wesley, who published The Well-Tempered Clavier and several arrangements of Bach's organ music. Wesley's anthem Exultate Deo is a vigorous and thorough, not to say exhaustive, contrapuntal treatment of a series of verses from Psalm 81, clearly under the influence of Bach's music, if not quite matching its expressive power. It was Samuel's son, Samuel Sebastian (whose middle name pays tribute to his father's idol) who rose to the compositional heights: here, instead of one of his multipartite anthems (one of these, Blessed be the God and Father, features on an earlier playlist) I have included the exquisite Thou wilt keep him, the rapt quality of which is not all that far from, say, a Beethoven slow movement. Like Zadok the Priest, this anthem was sung at the most recent coronation.
Toward the end of the nineteenth century, two composers came to represent a thorough Renaissance in British musical life, not least through their teaching at the relatively new Royal College of Music, established to provide a methodical training for professional musicians, like a European conservatoire or Hochschule. Charles Villiers Stanford was born in Dublin, but worked most of his life in England, first at Trinity College, Cambridge, and latterly in London. His symphonies were performed around the world – Mahler conducted one in New York – and his church music revivified the genre by incorporating the manner and structure of the latest European art music. If his Magnificat in A could be a symphonic movement by Brahms, his late anthem For lo, I raise up perhaps channels Wagner just as strongly—especially in the Parsifal-esque 'vision' music intoned by the tenors and basses following the treble and tenor solos. The piece was written in response to the outbreak of the First World War, in private horror at the way Prussian militarism had hijacked the young nation state of Germany. Stanford was not the only musician to abhor this development: his colleague and (most of the time) friend Hubert Parry wrote of his despair at international events. Parry, who like Stanford had studied in Germany, was Director of the RCM, and by the outbreak of the war in poor health—he was to die just a few weeks before the armistice, in October 1918. His exquisite late set of motets, poignantly entitled Songs of Farewell are perhaps as much elegies for the formerly cordial relations between Britain and Germany, at least in the musical sphere, as they are a response to the composer's own waning strength. Parry heard most of the motets, Never weather-beaten sail included, sung by New College Choir under his friend Hugh Percy Allen, soon after they were composed (and prior to publication). Here, Bach once more asserts his influence, but also the music of the English madrigalists: these are sacred part-songs more than liturgical 'anthems'.
Stanford thought Herbert Howells his most promising student, though he disliked the younger man's predeliction for 'modern stinks'. Howells's music sounds like no other composer's, though Ravel, Vaughan Williams and the vocal music of the sixteenth century are all clearly discernible influences. Perhaps Stanford objected to the elliptical manner in which much of Howells's music proceeds: there's something appropriate about his choice of text in The House of the Mind: 'As earth's pageant passes by, / Let reflection turn thine eye / Inward…' The sharp clarity and concision of Benjamin Britten's Missa brevis of 1959 could hardly be more different. Among its many qualities, Britten had an undeniable knack for appealing to children—they seem to love singing his music. And there is a beguiling, rather Brittenesque simplicity about Judith Weir's Love bade me welcome, here recorded in the original version with a rippling obbligato organ accompaniment. Its F major tonality is subtly questioned, echoing the querulous voice of the guest in Herbert's poem, but the music only briefly escapes the undertow of Love, represented by the home key.
We end not in the 21st century, but with an anthem of 1914, by a composer who must be included in any survey of British music. Edward Elgar began as an outsider – of humble origins (unlike Parry and Stanford), provincial, Catholic – but his genius propelled him to the forefront of music internationally, where he deservedly maintains his place. He wrote little music for choirs of our kind, but Give unto the Lord, composed for the Festival of the Sons of the Clergy in St Paul's Cathedral, is a firm favourite in choir stalls all around the country. I hope you have enjoyed this whistle-stop tour of some of our core repertory!