Recordings
Bach & Walther: Concerto Transcriptions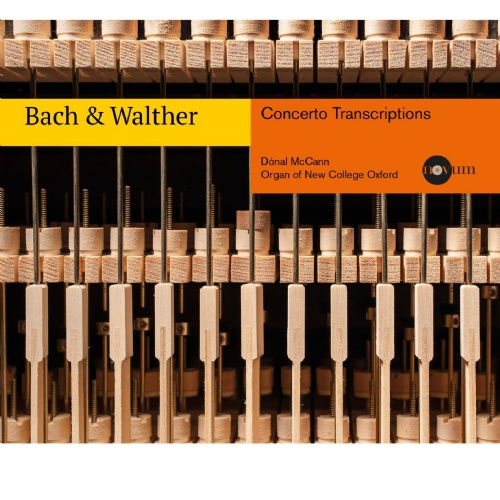 Release Date: 10 June 2022
Dónal McCann releases his debut CD of Concerto transcriptions by J. S. Bach and his contemporary J. G. Walther. This is the first solo organ recording on the Novum label and showcases the iconic New College organ.
This debut recording from Dónal McCann on the organ of New College Oxford, explores Bach's relationship with the music of his
German and Italian contemporaries.
Vivaldi's first major collection of concertos, L'Estro armonico, took Europe by storm at the start of the 18th century, and this disc shows how Bach
responded to this new Venetian voice. Bach's professional and personal life was also entwined with his German contemporary, Johann Gottfried Walther, both men sharing an interest in transcription and moving in the professional worlds of Weimar court music.

By focusing on transcription, this disc offers a unique insight into both composers' compositional practices and also asks fundamental questions about the creative nature of transcription itself.

This is rare virtuoso repertoire, performed with dazzling skill by Dónal McCann on the iconic organ of New College, Oxford, whose resources and colours are ideally suited to this repertoire.
| | | |
| --- | --- | --- |
| 1 | Antonio Vivaldi/ J. S. Bach, Concerto in A minor, BWV 593, I: Allegro | 4.04 |
| 2 | Antonio Vivaldi/ J. S. Bach, Concerto in A minor, BWV 593, II: Adagio | 3.06 |
| 3 | Antonio Vivaldi/ J. S. Bach, Concerto in A minor, BWV 593, III: Allegro | 3.55 |
| 4 | Johann Ernst / J. S. Bach, Concert in G major, BWV 592, I: Allegro Assai | 3.21 |
| 5 | Johann Ernst / J. S. Bach, Concert in G major, BWV 592, II: Allegro Grave | 2.10 |
| 6 | Johann Ernst / J. S. Bach, Concert in G major, BWV 592, III: Presto | 1.52 |
| 7 | Antonio Vivaldi / J. G. Walther, Concerto in B minor, I: Allegro | 2.41 |
| 8 | Antonio Vivaldi / J. G. Walther, Concerto in B minor, II: Adagio | 2.48 |
| 9 | Antonio Vivaldi / J. G. Walther, Concerto in B minor, III: Allegro | 3.00 |
| 10 | Giuseppe Torell / J. G. Walther, Concerto in D minor: Allegro | 2.42 |
| 11 | Johann Ernst / J. S. Bach, Concerto in C major, BWV 595 [no tempo marking] | 3.36 |
| 12 | Tomaso Albinoni / J. G. Walther, Concerto in B flat major, I: Allegro | 2.20 |
| 13 | Tomaso Albinoni / J. G. Walther, Concerto in B flat major, II: Adagio | 1.05 |
| 14 | Tomaso Albinoni / J. G. Walther, Concerto in B flat major, III: Allegro | 2.02 |
| 15 | Antonio Vivaldi / J. S. Bach, Concerto in D minor, BWV 596, I: Allegro-Grave-Fuge | 4.31 |
| 16 | Antonio Vivaldi / J. S. Bach, Concerto in D minor, BWV 596, II: Largo e spicatto | 2.32 |
| 17 | Antonio Vivaldi / J. S. Bach, Concerto in D minor, BWV 596, III: Allegro | 2.49 |
| 18 | Giulio Taglietti / J. G. Walther, Concerto in B flat major, I: Grave, e Solo | 2.33 |
| 19 | Giulio Taglietti / J. G. Walther, Concerto in B flat major, II: Allegro | 2.28 |
| 20 | Giulio Taglietti / J. G. Walther, Concerto in B flat major, III: Adagio | 1.17 |
| 21 | Giulio Taglietti / J. G. Walther, Concerto in B flat major, IV: Allegro | 2.06 |
| 22 | Antonio Vivaldi / J. S. Bach, Concerto in C major, BWV 594, I: Allegro | 6.23 |
| 23 | Antonio Vivaldi / J. S. Bach, Concerto in C major, BWV 594, II: Recitativo, Allegro | 2.26 |
| 24 | Antonio Vivaldi / J. S. Bach, Concerto in C major, BWV 594, III: Allegro | 7.37 |